Have been at home for several days and have had sometime to work on my Hummer.
So far I have about 35 hours of work that I can say I've done. I've finished installing the body mounts. I figure it is best to build everything up except the wiring, then disassemble to do body work and paint.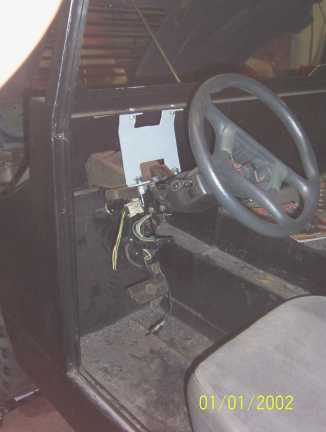 Here you can see that the gas pedal, brake pedal and the steering column have been installed. The brake system is a Hydro boost and is the ideal way to stop something this big and heavy with these huge tires.

I fabricated a bracket that holds the steering column. It also works to hold the brake bracket. The gas pedal is against the firewall and is kind of far from the brake. I've seen in other UG kits that the floor pan has a more slop to it than the one I have. I may modify the brake pedal to remedy this.
The next project was to get the hood mounted. Man this hood is heavy. I plan to use two hatch shocks to help in lifting the hood. I have a H1 hood prop that comes in handy. I was going to make the mount have a rubber bushing but changed my mind. I was concerned about the location of the hood and the way it mated to the body. I have some angle iron and some weather stripping that will provide about a 1/4 inch clearance.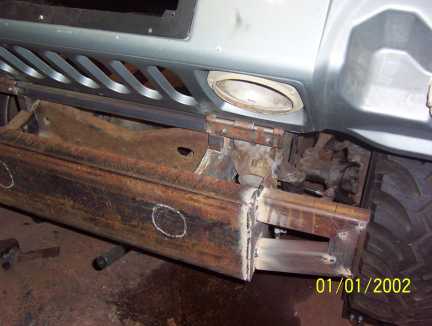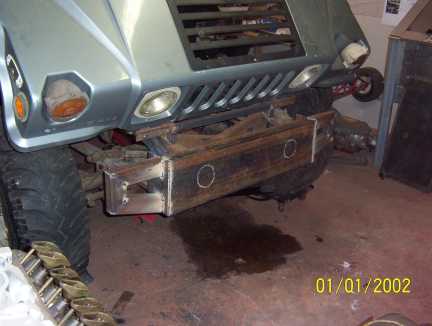 Once the hood was installed, I went about installing the lights. I have HUMVEE lighting. This system is set up for 24 volt so I'll have to rewire it and set it up for 12 volt. I really like the military tail lights over the H1.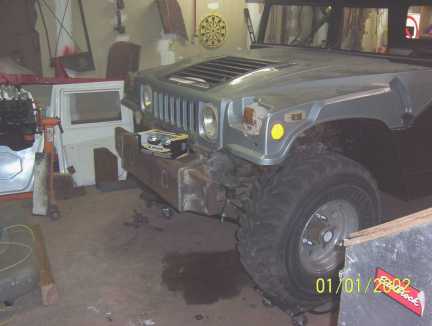 Here I have built both the front and rear bumpers. I wanted something that was different that what everyone else was using. So I added the side pieces. The front bumper weights right at 80 pounds. The rear is 85 pounds. I still have allot of welding to finish and then its bondo time. I'm installing expanded metal in the openings. I have made the rear bumper with a recessed tag and two driving light holes have been cut out that will be used for back up lights.


I have also installed the tailgate. I had to us a hydraulic jack to place between the two fenders in order to make them straight again. This was one of the problems that I had when I did the measurements.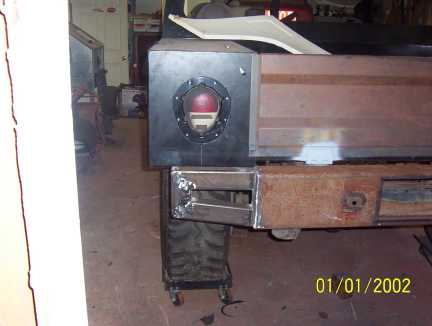 The front bumper is getting a winch and 4 inch driving lights. I'll probably build some kind of brush guard before it is over with.
Once the bumpers are finished then its on to the doors and interior. OH!! The date on the camera was wrong!